When it comes to wholesome entertainment, the charm of county fairs is perfect, especially when you are traveling with a family. Oregon, with its diverse landscapes and culture, is home to some of the most attractive fairs in the country.
1. The Oregon State Fair
Held in Salem, the Oregon State Fair holds a special place in the heart of many locals. A century-old tradition, it started as a simple gathering for farmers to display their finest produce. Some of them are even selling mini cows.
Over time, it managed to become something much more attractive, drawing visitors from not just the state, but across the country.
Modern Attractions
It represents a dynamic blend of the old and the new. Livestock displays and agriculture still form its core. However, there are many other interesting things available.
Top-tier musicians, thrilling circus acts, and dynamic dance performances.
Experience the best of Oregon's culinary scene, from food trucks to traditional stalls offering local produce-based dishes.
From art workshops for those seeking something creative and rustic, to modern tools used in agriculture.  While there are numerous state fairs across the US, Salem's fair offers a genuine feel of Oregon's spirit.
It's where traditions meet contemporary, and where every visitor, regardless of age or interest, finds something to resonate with.
2. Deschutes County Fair
It is hosted in Redmond, and represents a great way to experience local spirit. It beautifully captures the essence of the region, from its cowboy culture to its modern vibes.
What to Expect?
The fair is a packed event with activities spanning multiple domains.
Witness the thrilling rodeo events, a true representation of Central Oregon's cowboy culture.
Whether you're an art lover or a tech geek, there's something to pique your curiosity.
Child-Friendly Activities
A dedicated section ensures that young attendees aren't just tagging along but having the time of their lives. What sets this place apart is its inclusivity. It's not just an event; it's a celebration that welcomes everyone, from locals to tourists, and ensures they get great memories.
3. Josephine County Fair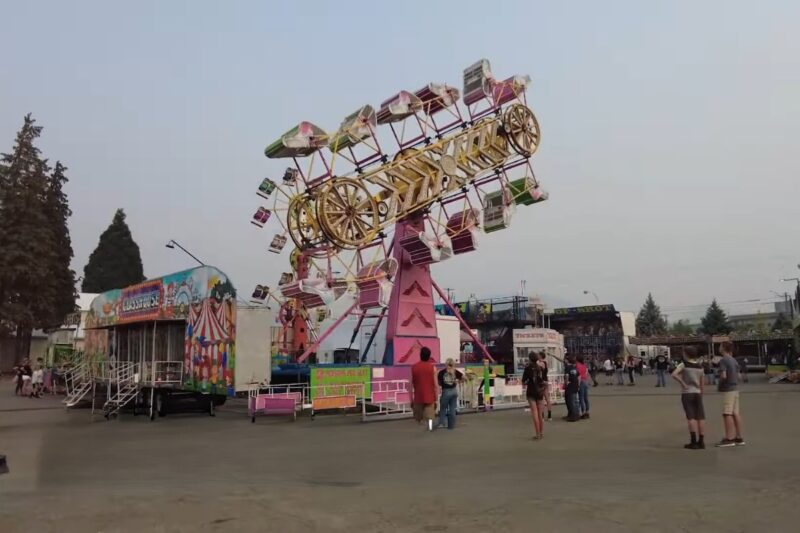 Nestled in the scenic town of Grants Pass, Josephine County Fair is more intimate when compared to previous places, but it is also very attractive. It's a community-driven event where locals are presenting their talents, crafts, and traditions.
Highlights of the Fair
Even though it may not have the scale of the state fair, it more than makes up for it in charm.
The fair is a platform for local bands, dance troupes, and artists. The events here feel personal, giving visitors a genuine taste of Josephine County's culture.
Paying homage to its roots, there are myriad farm-related activities and exhibitions, from cattle shows to organic produce stalls.
No fair is complete without them, and the ones here promise adrenaline-pumping fun. This fair offers a more relaxed but still quite an entertaining experience. It's where you can feel the energy of the community and enjoy a fair in its most authentic form.
4. Tillamook County Fair
While best known for its cheese, it is also the proud host of one of Oregon's most delightful county fairs. The fusion of coastal culture with traditional fair festivities makes it a unique experience.
Stand Out Features
It brings together the best of both worlds. Therefore, you can expect to see a lot of interesting things.
The pig-n-ford race is a crowd favorite, where participants race Model T Fords while holding a live pig!
Given Tillamook's dairy legacy, you're in for a treat. From cheese tastings to milkshake stalls, dairy lovers are in paradise.
Given its coastal location, expect fresh catches turned into sumptuous dishes. The fair isn't just about events and food. It's a great presentation of Tillamook's spirit – a coastal town with deep-rooted traditions and a love for celebrations.
5. Harney County Fair
Located in Burns, Harney County Fair is an unexpected delight in Oregon's desert region. Its rapid rise in popularity is testament to the unique experiences it offers.
What Makes It Special?
This place shines in its introduction of local culture and crafts
From handwoven fabrics to intricate pottery, the craft stalls are a visual and artistic treat.
Desert-inspired Delicacies
The food here is unlike other fairs. Experience dishes inspired by the desert, with ingredients locally sourced.
Dance and music that tell tales of Harney's rich history and diverse heritage. The fair provides an insight into the unique contrast between sea and desert, which makes it one of the most interesting places in the state.
6. Clackamas County Fair
Canby's Clackamas County Fair is often described as a sensory delight. From visually stunning garden shows to the aromatic food stalls, it is the best experience for all senses.
View this post on Instagram
Key Attractions
The fair provides a wide range of activities and showcases.
For those with a green thumb or even a passing interest in horticulture, the garden shows are pure joy.
Animal enthusiasts rejoice! From fluffy dogs to exotic pets, there's a show for all.
Traditional merry-go-rounds meet modern thrill rides, ensuring everyone, regardless of age, has a great time. With its focus on nature, pets, and fun, Clackamas County Fair offers a fresh, family-friendly vibe.
7. Lane County Fair
With the Willamette River flowing alongside, this fair brings the best of Oregon's valley vibes to life. In that matter, if you are planning to visit this state, it surely should be on your list.
Best Events
Think beautifully decorated floats, high school marching bands, and local community groups showcasing their talents.
Car enthusiasts gather to admire a collection of classic and vintage vehicles, a nod to the region's love for history and machinery.
Multiple stages host local bands and national acts, catering to every musical taste, from country to rock. Besides the fact that you can visit all these events at one place, we also have to mention that you can meet a lot of interesting people. Therefore, having a great time there is guaranteed. However, keep in mind that the place will be crowded.
8. Jackson County Fair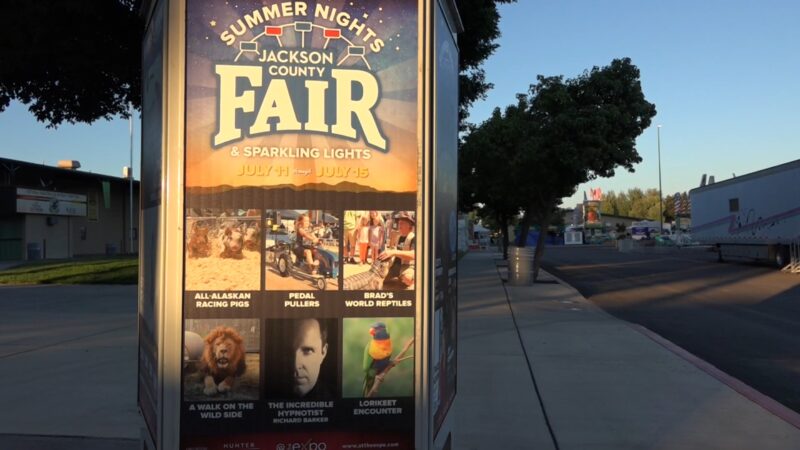 It is an especially good option for people interested in learning more about tradition, rural architecture, and history.
Don't Miss Out On
Travel back in time and witness scenes from Oregon's storied past.
Savor the flavors of Jackson County with stalls bursting with fresh produce, cheeses, wines, and more. On the other hand, they are aware that it is important to keep up with recent tech advancements. Therefore, you kids will also be entertained with modern parks where they can test VR technology and play various games.
9. Umatilla County Fair
This region is especially popular for breweries and wineries. In that matter, be sure to don't miss checking out local shops and enjoy the high-quality and unique taste of craft beer and wine.
View this post on Instagram
Highlights
Sample local brews, from craft beers to exquisite wines. Umatilla's vineyards and breweries are recognized as some of the best in the whole country.
Experience the thrilling cowboy culture with rodeo events that promise edge-of-the-seat excitement.
Local artisans display everything from handmade jewelry to outstanding leather goods. The fusion of traditional events with modern attractions ensures that this place will be attractive to all generations.
10. Douglas County Fair
If there's one thing you'll take away from this fair in Roseburg, it's the outstanding taste of local delicacies that will cheer you all the time while staying there.
A Culinary Journey
The food is the main focus, and there are many spots where you can try something delicious.
Local chefs and home cooks battle it out, presenting their culinary skills in various categories.
Fresh produce is turned into delightful dishes right before your eyes.
Experience flavors from around the world, with stalls dedicated to international cuisines. While the spotlight is on food, the fair is also offering other types of entertainment, such as live performances, craft bazaars, and interactive workshops.
FAQs
Are pets typically allowed at these county fairs?
While some county fairs in Oregon have specific pet-friendly areas or events, most fairs usually have restrictions on bringing pets, especially due to the presence of livestock and large crowds. However, service animals are generally allowed. It's always best to check the specific fair's guidelines before attending with a pet.
How accessible are these fairs for individuals with disabilities?
Most of Oregon's county fairs are committed to being accessible to everyone. They typically offer features like ramp access, wheelchair rentals, accessible seating for shows, and dedicated parking areas for individuals with disabilities. It's advisable to contact the fair organizers in advance to get detailed information on available amenities.
Do the fairs offer any volunteer opportunities for those looking to be involved behind the scenes?
Yes, many of Oregon's county fairs rely on the support of volunteers to ensure smooth operations. Volunteering roles can range from assisting with event setups, managing information booths, aiding in organizing contests, or even helping with clean-up. Those interested in volunteering can check the fair's official website or contact the fair's administrative office for available opportunities and requirements.
Last Words
Each fair, with its unique events and details, offers a unique experience. Therefore, traveling to Oregon can be a great solution for the whole family. All you need to do is to make a good plan where you can fit more of these fairs.